CONNECTED TO PJAMA TREATMENT PANTS AND SHORTS
This product consists of two components: A sensor and an alarm unit (bedwetting alarm). This bedwetting alarm should be used together with Pjama Treatment Pants / Shorts.
Simply snap on the Sensor at the front waist line of the Treatment Pants and start the Bedwetting Alarm. Place the Bedwetting Alarm within 10 m to the child. Should an accident occur, the sensitive sewn-in sensor threads in the pants will react quickly and activate the Bedwetting Alarm. The child can easily stop the alarm by pressing the "ON / OFF- button" once on the top of the alarm. The child will then go to the bathroom to end the urination and change into a new pair of Pjama Treatment Pants.
Note that you as a parent must be prepared to assist the child in waking up, it is not uncommon for the child to sleep deeply and not wake up from the alarm in the beginning of the treatment..
To increase the chances of achieving a successful treatment, it is also important that both the child and the parent receive guidance and motivation. We encourage you to download the Pjama app to get access to a calendar to log the progress, general tips and advice, the ability to use the app as an extra alarm device and the ability to set day alarms for children who suffer from leakage even during the day.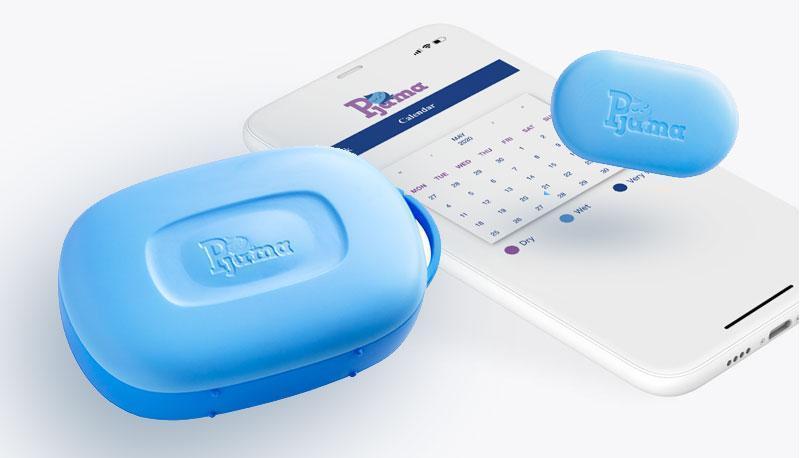 Wireless
10 m range
Volume control
Easy ON/OFF-function
7 different alarm signals
Fast responce time
Low battery consumption
Charging for Alarm unit: USB-cable
Alarm dimensions: 120 x 70 x 30 mm
Sensor dimensions: 60 x 35 x 10 mm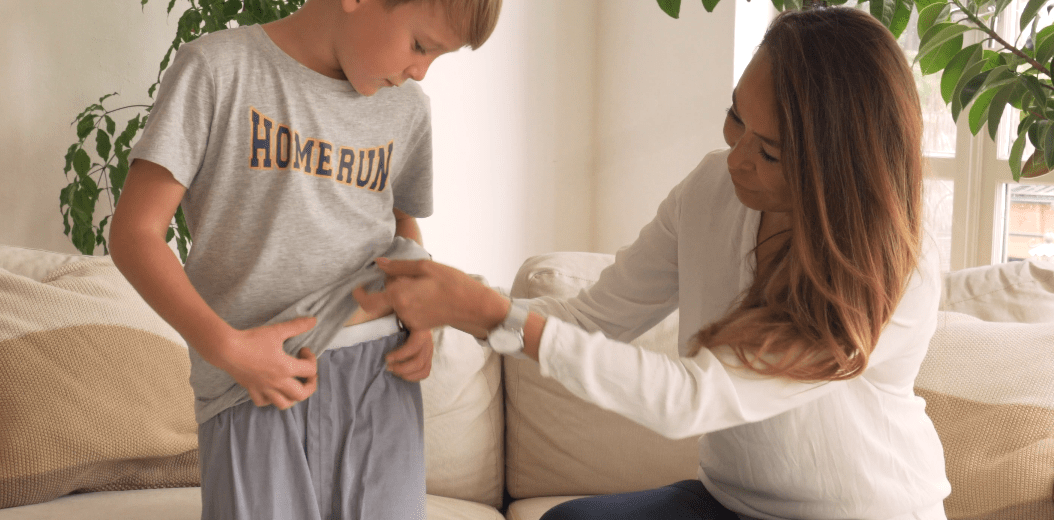 WHEN YOU USE PJAMA TREATMENT PANTS OR SHORTS
Start by making sure you got the right size. Pjamas should fit tight around the waist (without sitting too tight). Be sure to look at our size guide before ordering your Pjama.
When preparing for treatment, make sure your child is involved in the process and that they are aware of the procedure when an accident occurs.
Select an alarm signal and volume on your alarm unit.
Download the Pjama app and connect it to the parent's smart phone. The parent will receive a notice when an accident has occurred.
Attach the sensor to your pants / shorts.
Keep the Alarm unit within 10 meters of the sensor.
When the alarm goes off, wake your child and take them to the bathroom. It is important that the child wakes up.
Remove the sensor, turn the pants / shorts inside out and then wash them.
Don't forget to record the outcome of the night in the Pjama app so you can keep track of your child's progress.